Countdown to: BPM - Ignition Sequence [Single]
BPM
explores their powerful Serbian sound with a masterfully crafted open-air anthem.
Their second release on their home label is also a teaser for their upcoming album expected in early 2018.
Played by the BMSS crew throughout summer, this potential future classic "Ignition Sequence" is designed to add a touch of the mystical to your grooving daytime dancefloor.
Out via
Beatport
Monday October 23rd!
ChikoDelic - Provenance EP
ChikoDelic, a brand new project from Israeli producer and former DJ, Chiko Dahan gives us a debut release that highlights both creativity and masterful soundscaping. "Dream", a full power Psytrance anthem pays respect to the golden age of Goa Trance with authoritative modern audio engineering whereas "Ninja" fully demonstrates ChikoDelics skillful rhythms and scene building abilities.
With both tracks ChikoDelic seems to have discovered the formula to keep them on the dancefloor. PerfecTone was responsible for the mastering, guaranteeing that Provenance will kick up some dust wherever it is played!
Tracklist:
01: ChikoDelic - Dream
02: ChikoDelic - Ninja
Mastering:
PerfecTone
Design:
Acora
Release date:
09.10.17 via
Beatport
(Digital)
Genetica - Liquid Sun EP
Genetica
, the latest signing to the ever expanding BMSS roster, is the hybrid of Sound Control and Argon Sphere, two Veterans from the Serbian Psytrance scene. Liquid Sun contains two potent Psytrance tracks, bursting with a mighty energy, forceful kicks and basses and esoteric evocative story-lines. Suitable for an accidic nighttime adventure or an uplifting morning. Legitimate Psychedelic Trance!
Tracklist:
01: Genetica - Liquid Sun
02: Genetica - One Way
Mastering:
Genetica
Design:
Acora
Release date:
02.10.17 via
Beatport
(Digital)

Boom Shankar: Jungle Spirit II [Dj Set 2017]
Here it is: the second installment of my Jungle Spirit series! A 96 minute journey into the realms of Psychedelic Trance mixed on the date of the Winter Solstice and featuring a high octane selection of my preferred trip advisors.

It took me more than a year to come up with another Dj mix which pays tribute to the intoxicating vibe of underground gatherings of the Far East and far beyond, which contains the essence of the terms PSYCHEDELIC and TRANCE, has a deep hallucinogenic touch and which ensures the manifestation of a restless leg syndrome - plus, creates a true and interesting journey with an unexpected ending and welcomes the winter season....hallelujah, a lot of tasks! 👊

But BOOM, I am surprisingly happy with the outcome and I hope you will share and enjoy this ride with me! ❤

Medical grade Acid trip anyone?
🚀
[
Boom Shankar
, September 2017]

Kundalini: Eighty Four EP
After his debut release with BMSS in early 2017, Nikolay Sabchev aka
Kundalini
reveals his second EP with us marking his initiation with our label. "Eighty Four" showcases the complexity and musicality of his talent. An extremely well-balanced combination of Psychedelic Trance illuminated by bright sparks of Goa, flashes of illusion and ambitious grooves. "Eighty Four" welcomes the morning with bright light, "Forgotten Rituals" is an intelligent soundtrack for nighttime adventures on the dancefloor.
Tracklist:
01: Kundalini - Eighty Four
02: Kundalini - Forgotten Rituals
Mastering:
Plus 6 (Wizzy Noise)
Design:
Acora
Release date:
25.09.17 via
Beatport
(Digital)
Synestesia - 9 years celebration!
We are celebrating 9 years of Synestesia in the Club Douala Ravensburg featuring our main BMSS Records bloke
Boom Shankar
and a very special guest from Goa Productions and Spirit Tribe in China:
Atoned Splendor
. Asian full power vibes guaranteed! 🚀 All info on
Facebook
! See you on the 13.10.2017 in Ravensburg / Germany!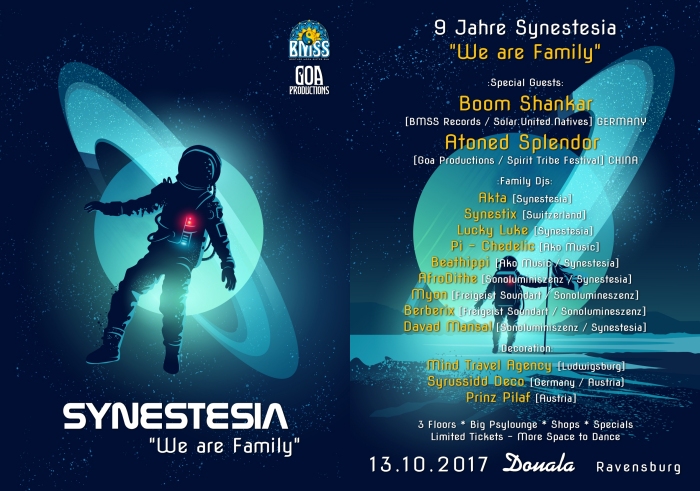 Alice im Wummerland - The 10th anniversary!
We are celebrating the 10th edition of this amazing party series in the heart of Germany with a stunning line up over 4 floors on Saturday, the 21.10.2017.
BMSS Records will be represented by
Boom Shankar
,
Psypha
,
TaktTrauma
and
Juladi
alongside a spectacular selection of artists and friends.
We recommend to get your tickets upfront as this event will sell out! Find the event on
Facebook
and see you down the rabbit hole!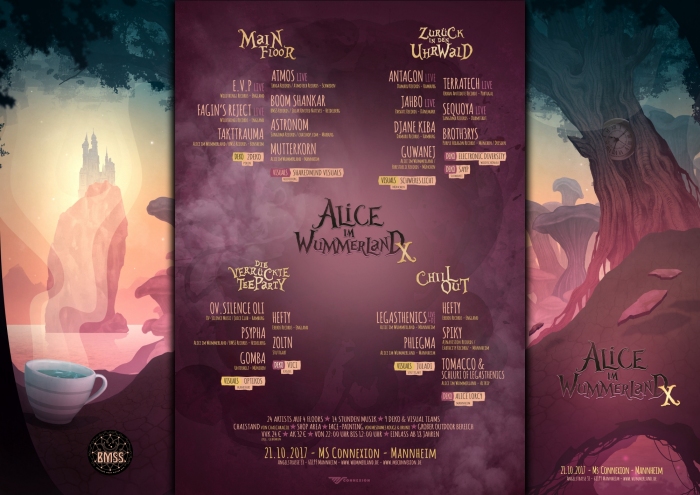 Perfect Blind - Stratum [BMSS Experimental]
Stratum is Perfect Blinds most nuanced album to date. Ten soundscapes worthy of epic science fiction or futurist fantasy. Clearly destined for the slowly expanding alternative electronic section on BMSS, these intelligent ambient tunes steer clear of boundaries and limits. Prepare to go beyond the familiar.
Ethereal orchestral synths underscore his stirring cinematic interpretations. Deep, convincing beats and esoteric textures combine to create space like vistas. Even as the music gains speed it never loses its intensity or cinematic feel.
You may find yourself on the edge of Tribal step or at the border of slower Techno with this exploration into the aesthetics of mechanical sound. You will be drawn into the newly formed solar system of Stratum where you will undoubtedly ponder upon the relationship between ourselves and the stars.
Mastering:
Deimos
Design:
Ivana Patricia
Release date:
04.09.17 via
Bandcamp
(Digital)

Ascent & E-Mantra, the Guardians of Light
Veterans
Ascent
and E-Mantra collaborate on Guardians of Light. Crystal clear production gives these two tracks a deep but dynamic atmosphere in which these two maestros deploy harmonic melodies, alongside mysterious ethnic vocals taken from traditional Indonesian folk music. Springy basses and hints of Goa color up these soundscapes without overpowering them. The result is emotive positive day time trance, uplifting and lush.
Tracklist:
01: Ascent & E-Mantra - Dancing Elves
02: Ascent & E-Mantra - Sleepwalkers
Mastering:
Plus 6 (Wizzy Noise)
Design:
Acora
Release date:
28.08.17 via
Beatport
(Digital)

The 5 Elements by Ambassador (Dj Zoo-B)
Dj Zoo B, Psytrance legend responsible for the Israeli labels Krembo and USTA Records back in the 90s, featured at Solipse, Boom and Burning Man is back after a decade of hibernation with a new project: Ambassador.
Following the ingenious remix to Psysex`s "Alien Cop" we are excited to present his first solo EP on BMSS Records. The 5 Elements contain two previously unreleased master blasters that kick up the dust between Full On and Psytrance with foot stomping grooves and body electric FX. Tested and approved by global dancefloors and carefully mastered by Mechanimal.
Tracklist:
01: Ambassador - Viking
02: Ambassador - 5 Elements
Mastering:
Res (Mechanimal)
Design:
Acora
Release date:
21.08.17 via
Beatport
(Digital)