Ascent & Sabretooth: Higher Forces
After a successful debut of his new project with Ovnimoon (
The Key
), Bojan returns to his alter ego
Ascent
and delivers an impeccable debut EP on his new home label BMSS Records. The EP features a fresh solo track of him plus a first-rate remix of BMSS Records own
Sabretooth
. Driven was the highlight on Ben Fraser`s first EP with his new label and this brilliant remix turns out the perfect alliance between Sabretooths Techno-driven Groove and Beats and Ascent's forceful Goa melodies and elements. An outstanding EP for both nighttime and the Twilight hours.
Cash Mattock supports us once again with his brilliant collages and Stryker ensures the dancefloor blast through his powerful mastering technique.
Tracklist:
01. Ascent - High Force
02. Sabretooth - Driven(Ascent Remix)
Mastering:
Stryker Masterings
Design:
Cash Mattock
Release date:
22.08.16 via
Beatport
(Digital)
Sound Control, Imaginarium & The Key: Freedom
Sound Control from Serbia demonstrates on his debut EP for BMSS Records the full potential of his sonic abilities with a liberating solo track of his own as well as remixes of
Ascent
and Ovnimoon`s already classic "Trance Mantra" under the alias of
The Key
and Imaginarium`s latest charter "Insider". Pure Psychedelic Trance, made for the big floors, ready to kick off the morning from a Twilight vibe, with fat production, deep Goa vibes and Full On basslines. A winning debut we are happy to launch via BMSS.
Mastered by Stryker Masterings.
Tracklist:
01. The Key - Trance Mantra (Sound Control Remix)
02. Imaginarium - Insider (Sound Control Remix)
03. Sound Control - Freedom
Mastering:
Stryker Masterings
Design:
Cash Mattock
Release date:
08.08.16 via
Beatport
(Digital)
Analog & BMSS welcome you to Hexaplex Festival
Our next adventure is upcoming: BMSS Records is once again partnering up with Analog from Beirut to bring you
Hexaplex Festival 2016
in the wonderful Lebanese mountain range. For 4 days and 3 nights we invite you to dance with us under the Sun, the Moon and the Stars in one of the most beautiful locations we ever set foot at!
Join us from September 1st till 4th for some real underground vibes of Psychedelic Trance...this is one of those special gatherings you want to be a part of if pop-culture Psytrance is not really your thing....trust us...good vibes with good people only! :)
This edition you can enjoy visuals by
Hakan Hisim
and stunning decorations by
Mimesis
plus music by
Ascent
,
Boom Shankar
,
M-Theory
,
Radzy
,
The Key
and of course a lot of our dear friends and family members...
More information, presale, info on how to arrive to Lebanon, what to bring, how to party etc here:
Hexaplex Festival
We are looking forward to another adventure with all of you. Trust in Trance!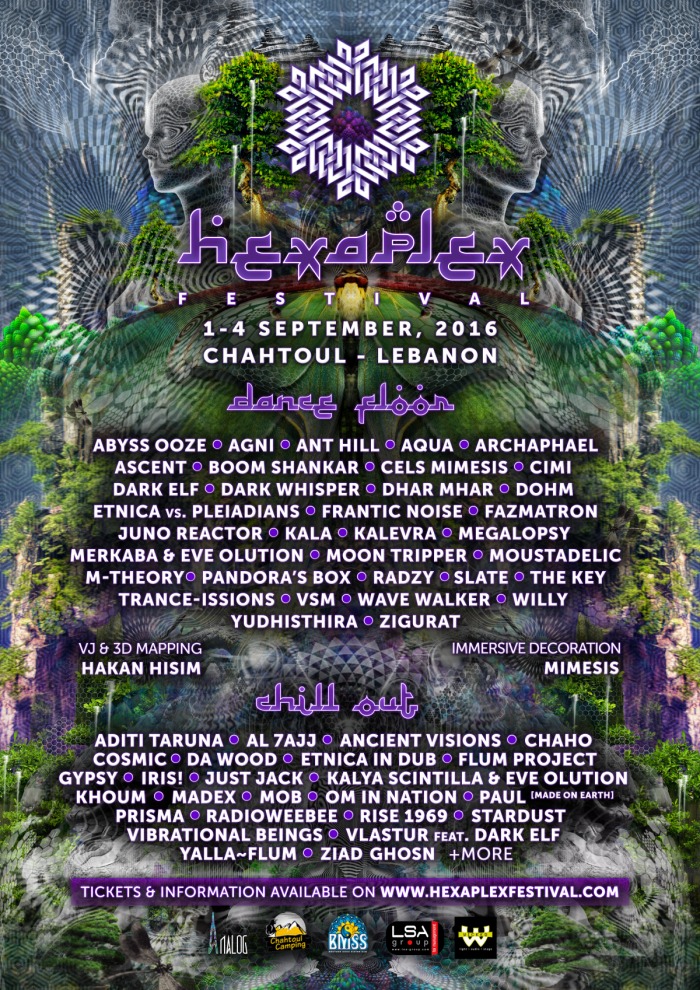 Persian power with a Malaysian mind: Damnedge
Please welcome
Dj Damnedge
from Malaysia to our BMSS Records family, enriching our roster and adding some more Asian spices to it!
Jamal views Psytrance as an organic universe. One that is independent of judgement and needs no spoken words. It is a place of pure raw energy that unites artists, dancers, producers, DJs, healers and those in need of healing through sonic frequencies. This is a universe where everyone is a piece of the puzzle and has an equally important role in the great balance…
He finds it difficult to describe music conventionally. His sets are described using terms like "intenseuphoric", "cosmorgasmic" and contain elements which he says are a bit "heavier but happier"! He considers this fervent spiritual state "The Edge", the connecting bridge of our world to the beyond…
Like a neon fairy tale, his sets contain tracks meticulously handpicked by him which are a reflection of his immense devotion to this genre and the love and energy that he wants to bestow. His belief of the highest form of a gift… One of simple love, ecstasy, dance, joy, bliss, smiles and happiness. More info an Damnedge
here
and his latest Promo DJ Set below: enjoy!
Thank you Solar.United.Natives!
Dear Solar.United.Natives, thank you for your presence, your smiles, your love and your energy! Once again you made
S.U.N. Festival
a blissful union of kindred spirits.
Our 7 day expedition into unity through the expression of art, music and spirituality was not about big names, hype or hippysterism. Though our chosen path was not easy, and there were many obstacles along the way, together we succeeded and learnt from our impressions and your suggestions. It was, for us, and we hope you share our point of view, a necessary break from Pop culture Psytrance.
As for our involvement as a label,
BMSS
could not be more happy with the outcome! We are grateful and honored to be part of this huge family. We had the chance to share our music and our artistic visual expression with you lovely beings. It was a pleasure for all of us to see so many smiles and so much energy on the dancefloor from an authentic and truly diverse crowd.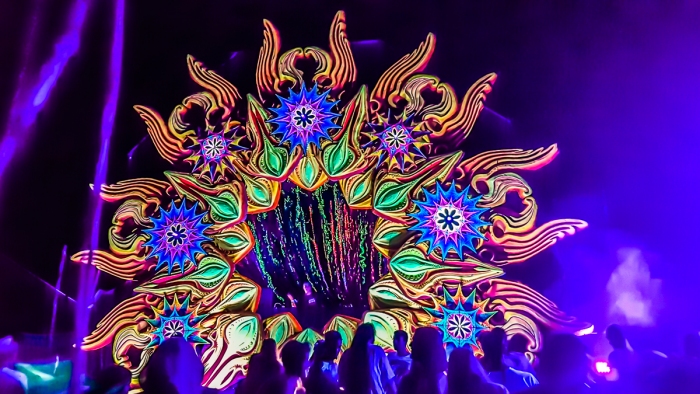 SUN is built upon this sort of collaborative spirit wandering in the same direction and your ideas, opinions and suggestions are what make this gathering unique!
Please share your thoughts on this years festival with us! What was missing? What was good? What could have been better? We look forward to hearing your views, seeing your photos and learning from your comments on our
Facebook page
.
Much love and see you very soon! The BMSS Records family at SUN 2016:
Alexsoph
-
Boom Shankar
-
Damnedge
-
Lupin
-
M-Theory
-
Manmachine
-
Micasphere
-
Mimesis
-
Odiolab
-
PhasePhour
-
Radzy
-
The Key
-
Try2Fly
Synthaya & Spiritual Mode - Cosmic Drama EP
After winning successful solo EPs on their home label BMSS Records, the dynamic duo
Synthaya
& Spiritual Mode from Israel return with a two tracker collaboration: Cosmic Drama. The EP features cutting edge production, influential basslines and a dramatic style that will electrify dancefloors anywhere. Stryker adds his fine tuning through the mastering process, ensuring both tracks kick up some cosmic dust!
Tracklist:
01. Synthaya & Spiritual Mode - Cosmic Drama
02. Synthaya & Spiritual Mode - Physical Mind
Mastering:
Stryker Masterings
Design:
Alien FX
Release date:
15.06.16 via
Beatport
(Digital)
Out now: Lupin - Dreamblaster
From the beginning of time man has been fascinated by dreams and tried to find a meaning for them. One way or another, the interpretation of dreams has been present throughout history, from primitive peoples to the present time through different stages.
Lupin
`s sonic interpretation of how dreams would sound is demonstrated here with his progressive psytrance paradigm. A solid concept shaped from psychedelic soundscapes and daytime reveries.
Tracklist:
01: Lupin - Dreamblaster
Mastering:
Stryker Masterings
Release date:
11.07.16 via
Beatport
(Digital)
Exclusive S.U.N. Festival Mix by Lupin
Welcome to the third instalment of the exclusive mixes for S.U.N. 2016!
Lupin
is one of the brightest talents of nowadays Progressive Psytrance, his latest record on BMSS Records, Ritmo Galactico was one of the highlights of 2015. If you missed it here is your chance! His special mix for Solar United Natives Festival 2016 have some special rarities and yet unreleased goodies!
Tracklist:
1.- Lupin - Fractal Rush
2.- The Key - The Voice of the Universe (Lupin Remix)
3.- Egorythmia - Arctic Dawn
4.- Lupin & Owntrip - Follow Us
5.- Lupin - Rumbo
6.- Lupin - Dreamblaster
7.- Lupin & Owntrip - Dibidibadibidu
8.- Lupin - Boomshakalaka
In addition, watch out for Lupin`s upcoming EP on BMSS: Dreamblaster will be out early July!
Learn more about S.U.N.`s programs and lineup
here...
...and see you in the S.U.N.shine!
Exclusive S.U.N. Festival Mix by Radzy
Welcome to the second part of the exclusive mixes for S.U.N. 2016!
Do you remember Radzy`s magical journey on Saturday night at Solar.United.Natives 2015? He will return this year and you don`t want to miss his set!
Radzy
is a Psychedelic Trance Artist & Promoter from Kuala Lumpur, Malaysia. He is the co-founder and organiser of EPIC Tribe, Malaysia`s psychedelic trance collective family that has been promoting and hosting psychedelic trance culture music & arts in Kuala Lumpur since early 2007. Radzy is the main organiser and founder of Belantara Gathering, Malaysia`s annual international psychedelic culture, music & arts festival and the BMSS Records label representative in Sout East Asia. Enjoy 2.5 hours of blasting Nighttime Psytrance!
Learn more about S.U.N.`s programs and lineup
here...
...and see you in the S.U.N.shine!
Out now: Somatic Cell - Twilight Stories
Somatic Cell
from Israel bravely explore the intersection of power driven rhythms and their effects on bodies in trance. Packed full of genetic imprints and structural elements synonymous with Psytrance, the dynamic duo uses these building blocks to bring you "Twilight Stories".
Combining dynamic energies and Goa melodies, both "Mad Cow in a Cell" and "Bodhi Quest" discover the morning with bright instrumental leads & expressive melodies. Communicating through a stirring spectrum of global soundscapes, "Twilight Stories" exists in the lucid, resplendent dimensions between mind and music.
Tracklist:
01: Somatic Cell - Mad Cow in a Cell
02: Somatic Cell - Bodhi Quest
Mastering:
Stryker Masterings
Design:
Cash Mattock
Release date:
13.06.16 via
Bandcamp
(Digital) &
Beatport
(Digital)