Enter the Spiritual Space of Moon Tripper
After numerous single releases and an artist album on Joof Records and being featured on
Boom Shankar`s
latest Trancefusion compilation,
Moon Tripper
reveals his debut EP with BMSS Records.
Spiritual Space contains two fresh tracks straight from Brad Ashtar`s studio in Dubai. Fat kicks and king kong bass go alongside hypnotic grooves, while vast psychedelic soundscapes provide the backdrop to the strong rhythm sections and multiple sparks of Goa Trance. These two tracks come loaded with proper blast power and are suitable for Open Airs as well as indoor venues. Mastered to perfection by Mechanimal, Spiritual Space is ready to rock dancefloors globally.
Tracklist:
01: Moon Tripper - Spiritual Space
02: Moon Tripper - Hypnoia
Mastering:
Res (Mechanimal)
Design:
Acora
Release date:
29.05.17 via
Beatport
(Digital)

Travel back in time with us to S.U.N. Festival 2013
Travel back with us in time to the beautiful 2013 edition of S.U.N. Festival held in Csobánkapuszta in Hungary. This edition was huge in size, but amazing in terms of vibes and connections.
Compared to other awesome summer festivals we are a bit smaller now and that is great for the family friendly atmosphere and vibe we wish to create and encourage.
We hope that this video will be a fantastic flashback for those of you who were there. For first timers, we look forward to seeing you at this intimate summer gathering and welcoming you to our Solar.United.Natives family!
More info on our official
website
and on the event page on
Facebook
!
Join our annual summer gathering: SUN Festival
In less than 2 months we will open the gates to our annual summer gathering hosted by
Solar.United.Natives
. This old school family gathering is limited to 1000 non member entries only, so we urge all our close friends to head over to any of the links below and purchase a ticket soon!
Hadra Shop (FR)
Access all Areas (UK)
OneTicket (HU)
Beat Base (DK)
More info on our official
website
and on the event page on
Facebook
!
We are looking forward to reunite and dance with all of you under the S.U.N.shine! Solar.United.Natives 🌻 BMSS Records 🌻 TesseracTstudio 🌻 Iono-Music 🌻 Suntrip Records 🌻 Altar Records and many more...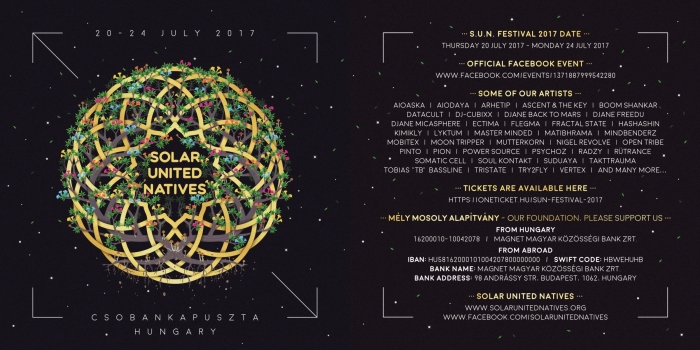 Exolon`s debut EP: "Spiritual Voices" is out now!
Exolon
, the latest signing to BMSS Records presents his debut EP. Cutting edge music production and beautifully crafted story-lines pay respect to the golden era of the 90s and are the reasons why we took Pedro on board. Known throughout Portugal and Europe for his energetic Dj sets under the alias of "Fluxo" and events under his "Quest4Goa" alias.
Both tracks are dancefloor monsters designed to energize and uplift. Pedro`s compositions demonstrate the knowledge he has gained over the last decades. Ethnic elements give the release a global approach that leads to euphoria on all tested dancefloors.
Tracklist:
01: Exolon - Spiritual Voices
02: Exolon & Bunker Jack - Enchantable
Mastering:
Res (Mechanimal)
Design:
Armin Acora
Release date:
22.05.17 via
Beatport
(Digital)

New EP by Mystic: Curious Effects
Israeli producer Mystic returns to BMSS Records with two fresh solo tracks of its own. After multiple successful releases and
remixes of Hujaboy
and collaborations with Spinal Fusion, Dor demonstrates versatility and intelligence through signature demanding grooves combined with full power Psychedelic soundscapes, woven into an acid laced tapestry of curious effects.
A must have for global dancefloors. Mastered by Stryker.
Tracklist:
01: Mystic - Curious Effects
02: Mystic - Real
Mastering:
Stryker
Design:
Armin Acora
Release date:
18.05.17 via
Beatport
(Digital)

Dark Nebula, Scatterbrain & the Flying Sorcerers
Australian legend Dark Nebula teams up with Scatterbrain for the second EP release on BMSS Records. Both producers raise the bar higher with their production skills, cutting edge tweaks and their unique sound that is somewhere between daytime flying and night time tripping. The Flying Sorcerers stands out from the masses. "Everything Vibrates" is the perfect secret weapon to light up daytime floors while "We got stoned" provides a bit more intensity and depth. This EP perfectly showcases the versatility and uniqueness and unity of these two producers.
Tracklist:
01: Dark Nebula & Scatterbrain - Everything Vibrates
02: Dark Nebula & Scatterbrain - We Got Stoned
Mastering:
Cosmic Tone
Design:
Armin Acora
Release date:
15.05.17 via
Beatport
(Digital)
The underground in Germany: Swabian Alp
"Mind boggling underground vibes in Southern Germany. If you have a rocking dancefloor despite loads of rain and mud one can consider it a blasting party! Thanx to all the Albträumers for creating a stellar gathering in the most conservative part of Germany!"
Somatic Cell`s 2nd EP on BMSS is out now!
Somatic Cell
return from their studio in Israel with two fresh tracks which clearly define the sound the duo have cultivated in recent years.
Following the success of their latest EP and numerous releases on their home label BMSS Records, Radical Particle is a tale told through rich music and dynamic sound production. Both tracks tell their stories with pulsating grooves, cunningly arranged melodies, sound effects and build ups. Happy ever after is a bliss filled dancefloor throbbing in the morning sun. Once more, Somatic Cell has proven that powerful musicality is an essential part of modern Psytrance tales.
Tracklist:
01: Somatic Cell - Factor of the Universe
02: Somatic Cell - Lost in Valhalla
Mastering:
Plus 6
Design:
Armin Acora
Release date:
08.05.17 via
Beatport
(Digital)
The Chinese Underground: Spirit Tribe
"Beautiful underground vibes at Spirit Tribe: Rebirth Festival in the Southern Yunnan province in China! Thanx to Goa Productions for planting the seed and for nurturing this beautiful plant in recent years!!
Debut release by Aumni (Yudhisthira) on BMSS
Out of the deep Macedonian woods comes the new project of Ogi Zafirovski: Aumni.
Compared to his alter ego project Yudhisthira, Aumni takes you on a groove laden journey while maintaining the hypnotic psychedelic side of Trance. Zenonesque in its diverse and esoteric use of sounds, but deeper and more funk oriented. Unyielding percussion combined with a strong rhythm section makes this EP the perfect soundtrack for daytime tripping.
After this new projects debut release on Boom Shankar`s
Trancefusion compilation
(Inner Call), we are happy to bring you Aumni`s two track EP Vagabond via BMSS Records.
Tracklist:
01: Aumni - Vagabond
02: Aumni - Suspension Points
Mastering:
Yudhisthira
Design:
Armin Acora
Release date:
01.05.17 via
Beatport
(Digital)